Thoughts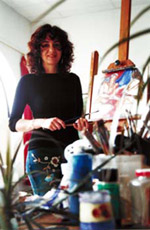 " One creates to find meaning in life. I see creation as a spiritual research. The Artist sees, senses and reveals the inner and outer world surrounding her or him. In my case, I visually reveal aspects of life's experience which provoke or profoundly affect me.
Sometimes it is something as seemingly simple as a flower or apparently complex as love. I approach both with awe, seeing the flower as a living being and love as a perception of eternity, each nature's creation and in itself a force of creation.
To illustrate the unknown and eternal, I often paint abstract backgrounds into which I usually add the human form. Painting real people around me, I present a range of personal and universal experiences seen through the expression of their bodies. My style of painting has been called sensual or sensu-expressionism.
While painting from life there is a transfer of energy between artist, model and the surroundings. The merging of internal and external forces is then transferred onto the canvas as directly as possible. My paintings are created through the weaving of emotion, logic and intuition. Emerging from enigmatic space, the bodies hover between beauty and sadness, struggling through external and internal turmoil.
I try to paint the complex, fragile human emotions, which exist in and despite our rapid digital era. On the canvas I record moments of our travel through time. I paint the raw human body layered with nerves, muscles, skin; the raw mind layered with instincts, memories, and perceptions: together desiring the blissful, the unknowable, the eternal. "
Marina Gavanski Zissis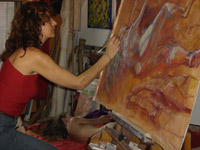 " Adhering to figurative painting, Marina Gavanski works mostly with live models. As her subjects breathe - revealing their emotions and thoughts - so do her paintings. Movement and life are captured onto the canvas, whether the models are still or in motion. Drawn in paint, distinct bold strokes become alive, vibrant and visible, appearing separate yet whole. These lines possess an abstract quality, yet allow the human body to materialize. Muscles, bones, gestures, and facial expressions all come to life, seducing the viewer. The artist focuses on the nude art form, which can possess a unique timelessness. Having shed their clothing, subjects become difficult to date and can seemingly exist in any century. The figures' flesh tones are often incorporated into an abstract background, exposing a full spectrum of prismatic colours. Described by the artist as Sensu-Expressionism, Gavanski's painting style reveals both a sensual and spiritual quality, all the while addressing the intellect.
Gavanski's aim is to paint people, as they are today, and as they once were. Believing all human beings share the same DNA, the artist channels past personalities into her subjects' portraits. The past plays a secondary role as well. Classical proportions and Greek myths are often referenced in Gavanski's body of work. Ancient times refer to the same everyday struggles found in modern society. Consequently, the paintings transpose mythological qualities onto contemporary people, especially those heroic individuals attempting to change the world. The subject's emotions and psychological make-up are illuminated, emphasizing their strengths, frailties, and personal dramas.
Gavanski paints the raw human within the digital age, as new technology surreptitiously transforms modern man into something more artificial. Estranged from direct contact with others, today's individual increasingly compartmentalizes his/her emotions, while struggling to remain real. The artist values such endeavors at authenticity, and works to replicate this humanness in her paintings. Video games, virtual reality, and artificial intelligence all conspire to reproduce humanity's basic characteristics, but fail at truly copying or explaining the core of our species' existence. Gavanski's creative philosophy reflects on the elusive essence of being human, which she continually explores in her work. "
Talks with the Artist by Alex Pixa